The emails are assembled on the basis of the current database selection and placed in the Outbox.
Compose an e-mail
Choose a group of records by search and/or selecting several rows with the Ctrl or Shift button pressed down.
Select "Mailing->Compile Mailing" in the Main Menu
In the following dialog, select whether the mailing is to be generated to

All Visible Records
only the marked Records (Current Selection).

Confirm with OK. The individual mails will now be compiled.
A preview of the generated mails appears. Check the individual mails. The mails can still be edited or deleted at this stage.
Place the mails in the Outbox by clicking on the corresponding button.
BCC-Mailing (Blind Carbon Copy)
In most cases, you should not use this option.
Without this option, BulkMailer sends every mail one by one. No recipient will se the other recipient's addresses.
The BCC Option was designed for the special task, when you need to send large file attachments to a large list of recipients.
With the BCC mode, BulkMailer devides every 50 addreses into a single BCC mail. This is the same, as if you address an email to yourself and drag 50 recipients into the BCC field, using a standard mail client.
But the BCC mode has two main disadvantages:
Personalization such as database fields, personal salutation etc. cannot be sent because the same email goes to many recipients.
You might run into traffic based Spam-Filters, when sending a larger amount of BCC mails.
To specify the block size, see "Options->BCC".
Preview of the Mailing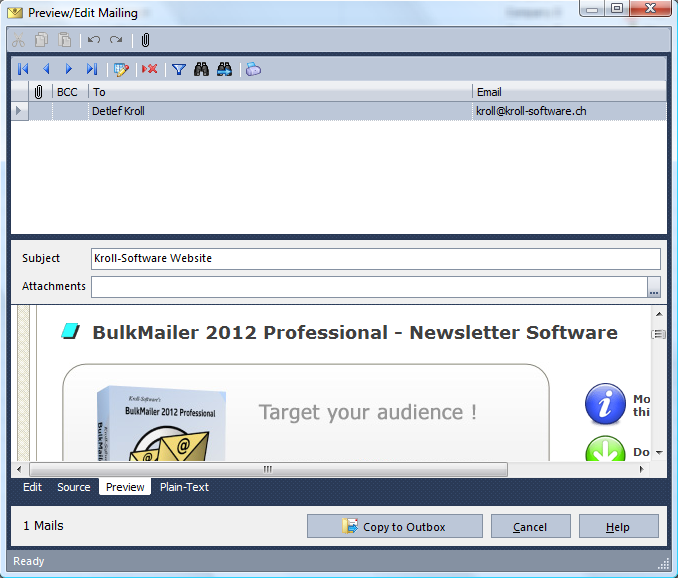 After compilition of the mailing you can see the preview for every compiled email. Here you can check, if everything is OK with the mailing. If all database contents are inserted correctly and all personal salutations are as desired.
Click on "Move to Outbox", to put these emails into the Outbox, from where they can be sent later.