Welcome to the FuzzyDupes 2020 Help
Download of the current version.
FuzzyDupes (fuzzy duplicates) searches for similar data records – especially in address databases.
How the program works
If you would like to learn more about how the program works, please first read the chapter Glossary. This is very helpful to understand some functions and settings of the program.
Backup your data regularly
This version opens your database read only an can be used without risk. Only some function delete records physically from your database. This action cannot be made undone. A warning message is always displayed in this case.
Please make regularly backup copies from your databases. This is always a good advice.
Sample Search Result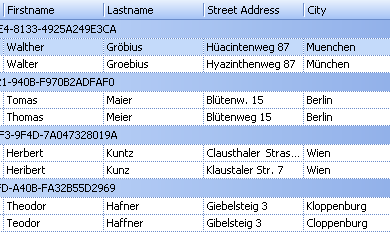 (FuzzyDupes finds similar records in address databases.)
Have fun and much success!
Detlef Kroll - Kroll Software-Entwicklung