Enter your valid sender email address and your PIN under Extras->Options. You can get a free Demo-PIN in seconds by clicking on "Get Demo-PIN" (see below).
PIN Validation
The program checks the validity of a personal identification number (PIN) before sending emails. This PIN is tied to one or more sender email addresses.
This mechanism is to avoid program misuse. It is something from which all those users who wish to utilize the program for serious bulk mails will profit.
Kroll-Software guarantees that no additional data is transmitted during the PIN check. Your email address will not be communicated to any third parties.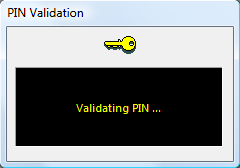 Requesting your Demo PIN for Evaluation
Enter your valid sender email address under Extras->Options.
Then click on the button "Get Demo-PIN by Email". The PIN will be sent to the specified sender email address in a few seconds.
Then enter this PIN in the PIN field under Extras->Options and click on the button "Test PIN". Wait for 20 Seconds. The message "DEMO PIN" should be shown.
If you get an error "host not found" please check if any anti-virus software or personal firewall blocks the request.
The Demo PIN is valid for 30 days. The sending of attachments is not possible during the evaluation phase.
If you have problems or questions concerning the ordering of the PIN, please do not hesitate to contact Kroll-Software either by email or by phone.
Licensing the Full Version
If you wish to use the program after the 30 days trial period, you will need to obtain a license. Companies from the EU can order licenses per invoice.